/ Rally Tyres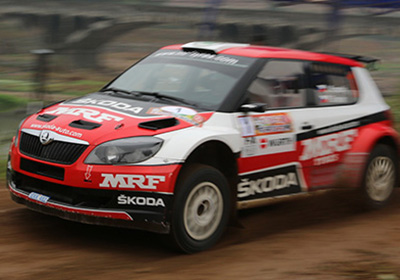 Tyres play an important role in rallying. The right type of tyre can alter the complete dynamics of the vehicle. MRF rally tyres are specially engineered for maximum performance on every high speed rally cars. Rally tyres are designed to achieve the fastest times as wells as consistent performance throughout the rally.
The asymmetric pattern of MRF rally tyres are designed to give sufficient traction and lateral grip. These tyres have been engineered for sustained high performance. The large tread blocks enhance handling and the curvilinear pattern provides effective lateral grip during cornering.
MRF rally tyres are constructed and reinforced using premium materials on the crown and the sidewalls to withstand a high degree of impact during rallying. Rally circuits consist of different terrains and most of the sections contain loose soil, pebbles, hard pack, mud, sharp objects, rocks etc. MRF tyres are engineered to withstand these tough conditions and ensure that the driver has complete control of the car.
MRF rally compounds are specifically formulated and designed for different applications, surfaces, temperatures and weather conditions. Compound selections have to be done by the team based on weather conditions and track temperatures during the rally.
Rally Tyres :-