/ ZVH1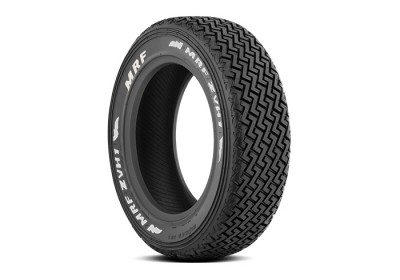 Symmetric pattern which fits on all four wheels. Integrated buttons and narrow-groove width pattern give the best performance on hard packs with small pebbles and rough surfaces. Lesser tread depth to give more stability on very hard packs.
Radial - Tubeless
Pattern
Tyre Size
Side
RRW* (inch)
Section Width
Tread Width
Overall Diametre
NSD
Compound
Usage
Remarks
ZVH1
185/60-14
NA
5.5
185
150
570
7
M
Narrow Grooves
ZVH1
185/65-15
NA
5.5
185
150
620
9.2
M
V.Hard with Small Pebbles
Medium Grooves
ZVH1
195/65-15
NA
6
200
165
635
7
M
Narrow Grooves
ZVH1
205/65-15
NA
6
205
171
645
9.2
M
Medium Grooves
*RRW – Recommended Rim Width in inches
Notes
All the above tyre dimensions are in Millimeters (mm), rounded off to nearest values.
Specified dimensions are design values and are subject to change by the manufacturer at any time.
Every 0.5 inch difference in rim width from that specified above will result in a + 5mm change in section width.
Compound/usage to be decided by the driver/team based on terrain, weather and other conditions.