/ MRF Tyres get head start at Akademos Rally
MRF Tyres has successfully entered the Australian rallying market with the running of the MRF Tyres Akademos Rally, round five of the 2016 Victorian Rally Championship.
Having won seven Asia-Pacific Rally Championship (APRC) titles, MRF rally tyres are now available through the Australian and New Zealand importer, Mentor Tyres, with interest in the brand increasing.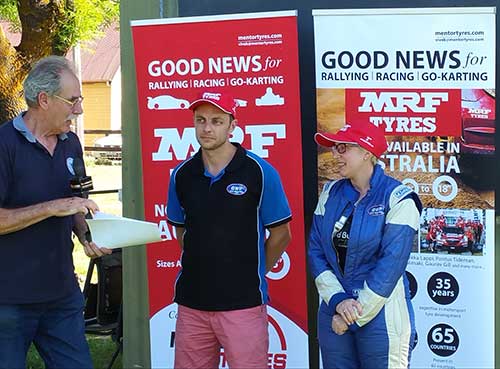 MRF Tyres are targeting event and competitor sponsorships in coming seasons, and Mentor Tyres' CEO, Vivek Ponnusamy, was thrilled with the company's initial foray into the Victorian rally scene.
"We had great feedback and enthusiasm through our naming rights sponsorship of the MRF Tyres Akademos Rally," Ponnusamy said.
"Competitors know the history of the tyres and of their success in the APRC, despite not previously having been able to purchase them in Australia.
"Now, to be able to purchase the tyres for future rallies, and at the competitive introductory price of $200 per tyre, has got many drivers quite excited."
The distinctive red and white MRF Tyres branding was prominent throughout the event and on competitors' cars.
In addition, all competitors in the rally received a special voucher entitling them to $75 off their next set of rally tyres purchased through Mentor Tyres.
Following the Akademos Rally, orders for the tyres started flowing in for upcoming events such as the Begonia and Alpine rallies – so much so that some sizes had been sold out before the MRF stock had even arrived in the country.
"The response to the launch of the brand in Australia has been fantastic, especially in Victoria. Competitors have appreciated the initiative that we have taken to support club and state level competition – the grassroots level of the sport," Ponnusamy added.
"We are looking to increase our involvement in the Akademos Rally even further in 2016, with some new and exciting ideas."
Akademos Rally Clerk of Course, Peter Otzen, acknowledged MRF's sponsorship when costs to run events are on the up and up.
"Having a sponsor who understands the costs associated with rallying is a huge advantage," Otzen said.
"Not only does the sponsorship assist with the running of the rally, but it means that the ever-increasing costs of organising the rally do not have to be passed directly on to the competitors."
As they further their participation in Australian rallying, MRF Tyres and Mentor Tyres are looking to sponsor two drivers in next year's Victorian Rally Championship, as well as two drivers from each of the other state rally championships throughout the country.
MRF Tyres has 35 plus years of success in all forms of motorsports and drivers such as Chris Atkinson, Esapekka Lappi, Pontus Tidemand, Jan Kopecky and Gaurav Gill have all taken major victories in FIA sanctioned rallies using the tyres.
MRF's range of gravel rally tyres includes the following sizes, in a range of compounds for 2015, and new sizes coming for 2016:
185/70 R 13 ZGM
185/60 R 14 ZDM3
195/65 R 15 ZDM2
205/65 R 15 ZG2
For more information on the MRF Competition Tyres range, visit their website at www.mentortyres.com, call Vivek Ponnusamy on 0424 246 611, or email vivek@mentortyres.com