/ Tyre Tips
Technical Information Tyre Sizing/Marking of Racing and Rally Tyres
Tyre Identification

The marking on the side of the tyre tells us the basic size of the tyre, the rim diameter and the width of the rim. We will illustrate how to read the different types of markings that may appear on the side of rally/racing tyres.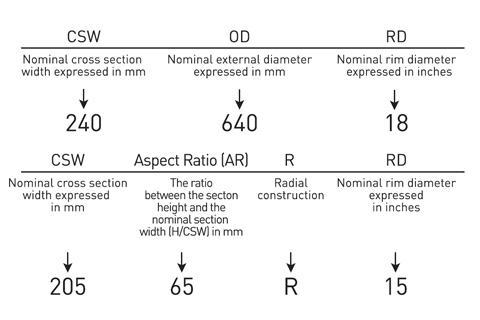 Rally Tyre Sizing Eg. 205/65 R 15
where
205 is the CSW of the tyre in mm
65 is the aspect ratio
R – Radial construction
15 – Nominal rim diameter in inches
Race Tyre Sizing (Classification 1) Eg. 200/540-13
where
200 is the TW of the tyre in mm
540 is the OD of the tyre in mm
13 – Nominal rim diameter in inches
Race Tyre Sizing (Classification 2) Eg. 240/640-18
where
240 is the CSW of the tyre in mm
640 is the OD of the tyre in mm
18 – Nominal rim diameter in inches
User Information
Tyre Storage
Tyres should be stored in a cool, dry and dark place away from direct sunlight (Suggested storage temperature: 25OC +5OC)
RIMS
Recommended width of the wheel as specified to be used for optimum performance. However, from the original specified rim width +0.5'' can also be used. ETRTO/JATMA standards can be referred for the correct rim width.
Tyre Mounting and Removal
Mounting/demounting should be done by trained personnel using a suitable mounting machine. Prior to fitment, inspect the rim and tyres for any external damage. Tyres have to be mounted according to the direction of rotation specified on the sidewall. The rim seating area and tyre beads should be lubricated. Recommended tyre pressure to be followed. Check for the proper seating of the beads and tyre centring with reference to RCR (Rim Centre Ring) after inflation. Balancing of the tyres must be done.
Left & Right
Directional pattern tyres must be used on the correct side. Left or Right and Outer side marking on the sidewall must be followed for the best performance.
Hand-Cut Tread Pattern
Groove width between the pattern blocks can be widened if required. However, hand cutting the buttons could alter the performance. Hence a careful decision is to be made based on the terrain conditions.

Compound Hardness Marking
Rally tyre and racing tyre compounds are designed for different applications, usage, weather conditions and track temperatures. Compound hardness is identified by H (hard compound), M (Medium compound), S (Soft compound ), SS (Super Soft compound) and W (Wet Compound).