/ MRF TYRES JOIN THE CAMS AUSTRALIAN RALLY CHAMPIONSHIP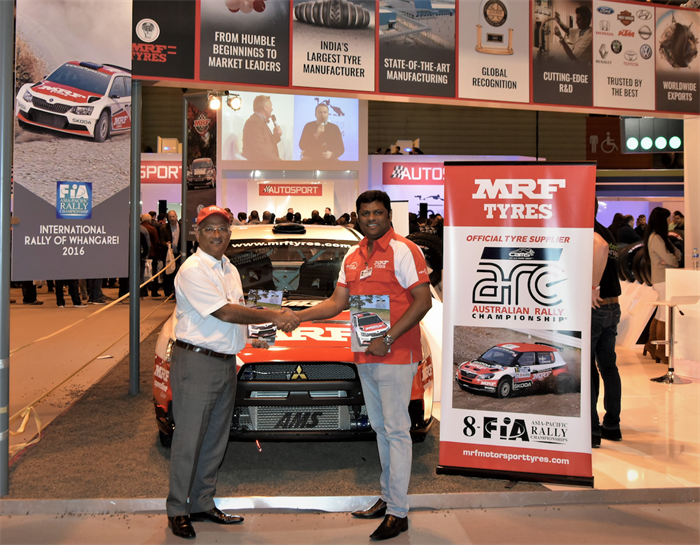 Photo taken at Autosport International with Arun Mammen MD (left) and Vivek Ponnusamy (right).
The CAMS Australian Rally Championship® (ARC) is pleased to announce that MRF Tyres will be the official tyre supplier of the championship from 2017 to 2019.
Mentor tyres, the exclusive importer of MRF Motorsport Tyres for Australia and New Zealand will be supplying and supporting ARC competitors for the next three seasons.
Vivek Ponnusamy, CEO of Mentor Tyres, is looking forward to the opportunity partnering with the championship from 2017 and beyond.
"MRF Tyres has a strong passion in motor sport and cannot wait in becoming a part of the Australian Rally Championship® for the next three years," Vivek said.
The controlled MRF tyre has won championships around the world, including the prestigious FIA Asia Pacific Rally Championship eight times.
"We have the enthusiasm and commitment to support all forms of motorsport in Australia right from club level to National / International level and we are here for long term.
"We have great reputation in all forms of motor sport, where our championship-winning tyres are used in rallying, open-wheel racing, motocross and international-level karting."
Next year's Australian Rally Championship will begin with the Eureka Rally in March and will then head to Western Australia for the Quit Forest Rally in April.
The championship will then go to the popular International Rally of Queensland in May, then a mid-season break will see the fourth round held at the Lightforce Rally SA in September.
The season will then draw to a close in October and November, with the National Capital Rally and Kennards Hire Rally Australia as the final round.