/ MRF Tyres joins South Australian Rally Championship
The South Australian Rally Panel is excited to welcome MRF Tyres as their naming rights sponsor of the 2016 and 2017 South Australian Rally Championships, and to announce the inauguration of the 2016 MRF Tyres South Australian Rally Challenge.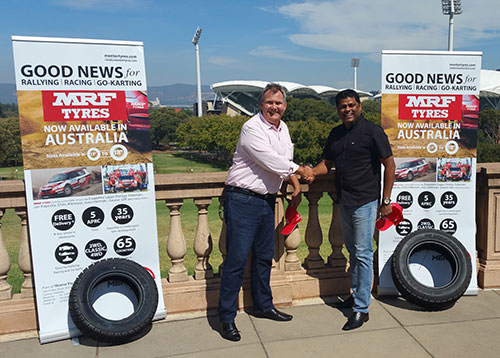 Speaking in Adelaide, South Australian Rally Panel Chairperson, Andrew Admiraal, said: "We are really excited to be working on a professional level with MRF Tyres and the official Australian importer, Mentor Tyres, to further build on the resurgence of special stage rallying in South Australia.
"We've got such a rich heritage of rallying in this state and some of the best and most famous stages in the country. With the support and backing of MRF Tyres, we are really looking to develop and evolve our championship to the next level.
"MRF Tyres, one of the world's biggest tyre manufacturers and 7 time APRC champions, are relative newcomers to the grassroots side of our sport, but have extensive experience at the highest levels of international rallying and are excited to share their hard-fought knowledge and expertise with state and club level competitors," Admiraal said.
MRF Tyres will have a physical presence at each round of the championship in the form of a motorsport tyre facility located in the main Service Park, available to all competitors. For those competitors choosing MRF Tyres, on-event services such as the removal and refitting of tyres will be made available free of charge.
Competitors in the South Australian Rally Championship will still be welcome to use any tyre of their choice, however, those running MRF Tyres purchased at a special discounted rate through Mentor Tyres and SA Motorsport Tyres, the South Australian MRF distributor, will be eligible to register for the MRF Tyres South Australian Rally Challenge. Points for special stage results will be tallied and awarded at each event, with an overall series winner announced at the conclusion of the championship.
Speaking at the official announcement in Adelaide, Mentor Tyres CEO Vivek Ponnusamy said: "MRF Tyres wants to be involved in all levels of rallying within South Australia, from Novice to the 4WD Turbo cars competing for outright honours, and sponsoring the SARC helps achieve this objective. I am very pleased to be working with the South Australian Rally Panel on this project and our long term outlook, plan and vision goes beyond 2016."
The 2016 South Australian Rally Championship gets underway with the Southern Rally, held in the Second Valley region of South Australia's spectacular Fleurieu Peninsula, on April 30th. Visit www.sarally.net.au for more information.
For more information regarding MRF Tyres please, call Vivek Ponnusamy at 0424 246611 or email vivek@mentortyres.com otherwise, you can call Mark Povey at SA Motorsport Tyres on  0409 288 380 or email mark@samotorsporttyres.com