/ MRF Tyres to sponsor Queensland Rally Championship
MRF Tyres has been announced as the major naming rights sponsor for the 2016 and 2017 Queensland Rally Championship (QRC).
Vivek Ponnusamy of Mentor Tyres, Australian distributor for MRF Tyres, along with the Queensland Rally Advisory Panel Chairman, Paul Woodward, will unveil the partnership at the forthcoming presentation night in Brisbane on February 6.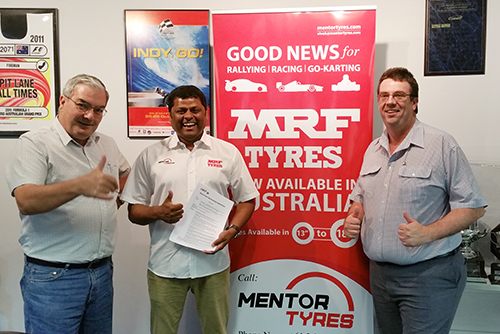 Championship spokesman, Paul Woodward said: "The 2016 MRF Tyres Queensland Rally Championship will be an exciting competition.  Every class and category is loaded with eager competitors ready to do battle and wanting to take out the challenging five round series.
"All classes from the overall QRC championship – Outright,  2WD, Classic and the newly established Novice – have sufficient numbers to make for a thrilling series that will certainly go all the way to the wire at the end of the year.
"We are extremely excited to have MRF Tyre on board for the 2016 championship as it will certainly allow us to raise the bar of professionalism to a whole new level.
"The sponsorship deal is a very positive move to promote the sport of rallying in Queensland. Vivek, myself and the State Rally Advisory Panel have discussed a plan and vision to ensure everyone is a winner and benefits from the partnership.
"MRF Tyres will obtain maximum exposure, the state championship will gain the high profile and stature it deserves and every competitor will compete in events with an ever-increasing level of safety, infrastructure and equipment."
MRF Tyres are a well-respected business throughout the Asia-Pacific and valuable asset to rallying in Queensland, and this deal further bolsters that relationship. When asked about his motivation behind the sponsorship deal, Vivek said:
"MRF Tyres wants to be involved in all levels of rallying within Queensland, from Novice to the 4WD Turbo cars competing for outright honours, and sponsoring the QRC helps achieve this objective.  I am very pleased to be working with the Queensland Rally Advisory Panel on this project and our long term outlook, plan and vision goes beyond 2016."
The deal is not a control tyre arrangement and all competitors are free to use any brand they choose.  However, MRF is running the MRF TYRES RALLY CHALLANGE, where registered competitors running MRF tyres can win significant rewards for their special stage performance within a rally.
It is certainly envisaged that competitors will show support and seriously consider running on MRF Tyres, not only for their quality, but for the competitive price offered to registered Queensland state competitors.  Queensland Rally Advisory Panel has negotiated a subsidised fixed price for MRF tyres for the 2016 Rally Season.
Round one of the QRC, organised by the Brisbane Sporting Car Club, is set for April 2.  The rally will based from Manumbar, with the bulk of the roads being run through the nearby and familiar Gallangowan forest.  It is shaping up to be a great start to a sensational series.
For further information on MRF Queensland Rally Championship visit www.qldrally.com.au